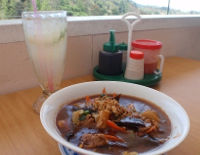 Looking for a simple and affordable place to dine around Kinabalu Park? Look no more, Panataran Kinabalu Restaurant is the place to be, and it is located right at the entrance of Kinabalu Park.
This restaurant is popular with Kinabalu park visitors, and passers-by to Ranau and Poring Hot Spring. The main cooking style here is Asian and Chinese with some simple Western food. Major meat selection in the menu is beef and chicken, with only a small selection on fish and prawn. For Chinese dishes the popular ones found here are fried noodle dry or wet, lemon chicken, sweet & sour fish, and ginger beef. For Asian delights the menu includes Beef Rendang, Chicken Curry, Sambal Prawn, and Tom Yam. Western sets like French toast, salad, sandwich and omelette are available.
This restaurant serves no pork.
Price per dish ranges from RM6-10. Hot coffee or tea cost only RM1-2 per cup.
Business Hours: 6:30am - 8:00pm